Services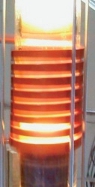 Aymont Technology offers a line of affordable Silicon Carbide Sublimation Furnaces and Epitaxial Growth (Epi) Reactors that can be customized to meet your specific requirements.
Additionally, if you do not want to purchase your own hardware, Aymont has in-house capabilities available for contract work.
Read more about our furnaces and reactors below and contact us if you have any questions.
Silicon Carbide Sublimation Furnaces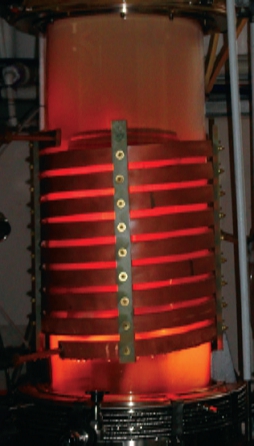 Key Features & Capabilities
Reactors for 2" and 100 mm diameter wafers available
Heating to > 2400°C
Double-walled water-cooled chamber
Inductively heated
Equipped with adjustable coil movement and coil rotation
Offered with standard SiC process as part of package
Advanced processes available upon request
Usable for sublimation growth of various materials including Silicon Carbide (SiC), Aluminum Nitride (AlN) and Gallium Nitride (GaN)
Standard Equipment Configuration
Base pressure: < 3 x 10

6

torr
50kW induction heating inverter
Process control software for recipe generation and editing, real time process control, data logging and display
Metal seal mass flow controllers and gas manifold with in-line purifiers
Pressure control from 1-700 torr
Stainless steel flanges
Pyrometers for top and bottom temperature measurement
Graphite crucible components
Epitaxial Growth Systems (Epi)
Key Features & Capabilities
Vertical and horizontal configurations available
Typical capacity of 3x4" or 6x2" wafers/run (1x8" capable)
Reactor designed with specific end uses in mind such as Silicon Carbide (SiC) bipolar transistors, Gallium Nitride (GaN) on Silicon (Si) power devices, Gallium Oxide (GaO) materials development
Double-walled water-cooled chamber
Inductively heated
Equipped with crucible rotation
Offered with standard Silicon Carbide (SiC) process (n- and p-type in same growth run)
Advanced processes and other materials available upon request
Standard Equipment Configuration
Process control software for recipe generation and editing, real time process control, data logging and display with touch screen
Metal seal mass flow controllers and gas manifold with in-line purifiers
System for optimizing flow and gas system uniformity
Pressure control from 1-700 torr
Stainless steel flanges
Pyrometers for top and bottom temperature measurement
Coated graphite susceptor components standard
Scrubber system available upon request