New!! Equipment and Services now offered !!!!!!!!!!
Aymont Technology is the leading supplier of crystal growth equipment with a commercial process for silicon carbide and similar materials. Aymont was founded in 2006. We are located north of Albany, New York, about midway between New York City and Montreal, Quebec.
Aymont makes and sells high-quality, turnkey systems for 100mm 4H and 6H-SiC single crystal growth. Our technology is based upon many years of development at Aymont. We have demonstrated high-quality growth processes for 50mm and 100mm single-crystal boules on our systems at customers' sites. We serve as partners to our customers by providing the highest quality support. We endeavor to enable our customers to become first-tier suppliers of silicon carbide semiconductor wafers, now at 100mm, and soon at 150mm.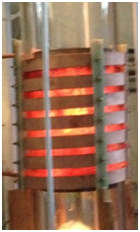 We still sell silicon carbide wafers, but are only selling existing inventory to focus solely on our customers' needs.
In this way, we will change the world by making hard applications easier.